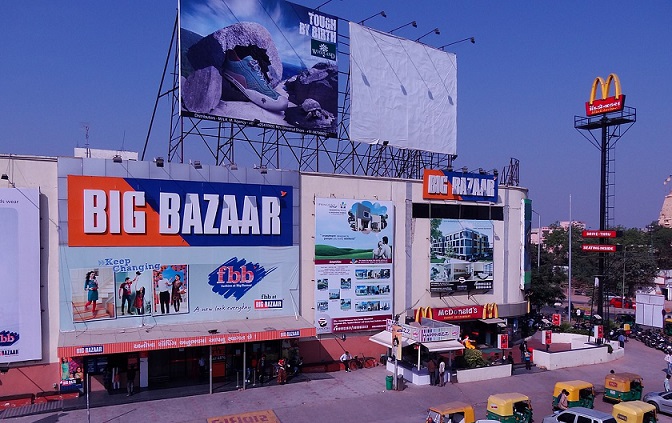 If you are a 90s kid who grew up watching Bollywood flicks, then you'd be familiar with the scenes where the hero magically appears at the climactic moment and rescues the damsel in distress from being married to the villain against her will. The classic three-way story arc seems to be ruling India's consumer retail sector. But things went seriously (even hilariously) wrong!
Reliance Industries (RIL), Future Retail and Amazon have been embroiled in an unyielding corporate struggle for over two years now. The dynamically changing developments afflicting this saga indicate just how large the stakes are in this game with each party trying to take the biggest bite out of the pie that is the Indian retail segment.
Although RIL seems to have assumed the title of the "hero" who is set to rescue Future Retail from its debt predicament, Amazon is still unrelenting in its villainous pursuit (sorry, Mr. Bezos but with your Lex Luthor looks…the metaphor just wrote itself!). And even though RIL's recent trick with taking over Future stores played off amazingly well, there are still many determinants at play which remain unclear.
So, let's get to it.
A Battle for the Future
In case you missed the early episodes, here's a brief summary of events. In 2020, Future Retail (which runs popular retail chains like Big Bazaar, Nilgiris, fbb, Easyday, Central and Brand Factory) announced the sale of its assets worth $3.4bn to RIL. Why? Because the company was in serious financial distress and needed an out.
Now, Amazon had been holding close to a 10% stake in Future Retail through a rather indirect and elaborate investment in Future Coupons, Future Retail's promoter entity. One of the prime motivations behind Amazon's ₹1,400cr ($184.4m) investment in the company was the special rights it was given in the shareholder agreement by which it could essentially veto the sale of Future Retail to certain players, including RIL.
FYI: These are the nitty-gritties of the oversimplified version stated above. Future Coupons is an unlisted entity. Kishore Biyani, the Founder and CEO of Future Group, signed a deal to sell 49% of Future Coupons to Amazon in 2019. The agreement states that Amazon has a right to buy into Future Retail within 3-10 years of its investment by exercising a "call" option. Now, these options typically work in a regulatory grey area. More often than not, foreign companies use these options to hold stakes in sectors they wouldn't normally be allowed to hold stakes in under the FDI (Foreign Direct Investment) rules. In case you're wondering, FDI in multi-brand retail (the sector in which Future Retail operates) is prohibited as of now in India.
So, naturally, when the sale was announced, Amazon objected and approached the designated Singapore-based Arbitrator for interim relief which was granted in its favour. Future Retail was prohibited from proceeding with the sale. A string of appeals and judicial processes followed thereafter with the matter now pending before the Supreme Court of India.
When a matter is pending before a court, it basically means hold off or face contempt. But as it turns out, Future Retail and RIL decided to push through instead, by devising a rather fascinating playbook.
The Loan Not Taken
Towards the end of February 2022 (more precisely, on the night of February 25th 2022), RIL's staff showed up in almost stealth fashion at several stores of Future Retail to assume control.
So, Future Retail is off the deep end in debt territory for a while now. Due to that, it says that it couldn't keep up with the lease payments on its stores. So RIL transferred the lease on many of these stores to its own name and decided to sublet them to Future so that they can keep operating.
This complication of a restructuring basically achieved what couldn't be achieved over two years of courtroom battle. Technically, neither RIL nor Future Retail broke any rules or committed contempt because RIL hasn't taken over the corporate reigns or management of Future. It has simply emerged as a white knight as a lease financier to lend a hand to the company with debt payments.
However, since Future is bleeding money anyway and can't afford to pay its new landlord either, it clearly suggests that through physical ownership and control of the stores, RIL can now govern their operation and business on a day-to-day basis and is hence, the de facto (by right) owner of Future, if not the de jure (by law) owner.
Needless to say, Amazon is livid. The trillion dollar-valued tech giant is feeling so estranged that it decided to take out front-page ads in national dailies on March 15th to launch a public attack on Future Group and RIL (naming names and everything – see below).
Why on March 15th? Because that's the date the Supreme Court stipulated for all parties to the case to sit together and finalise a solution. Evidently, as talks fell through, Amazon decided to go out on all offensive.
What's more interesting is the charade of plausible deniability played by Future Retail with regard to RIL's store takeover. The company says even though the step was necessary to seek value adjustments, the action was still "surprising" and it remains committed to reverse the takeover.
What Happens Now?
Well, for starters, Future Retail is on the verge of bankruptcy. Lenders of the company are all set to begin debt recovery proceedings.
However, since the question of ownership and possession of the company's assets are somewhat of a question mark at the moment, thanks to RIL's midnight heist, it remains uncertain as to how the resolution process will take place.
If you are a corporate lender in India, then there are two ways in which you can recover your debt. One, either have the company declare bankruptcy and approach the National Company Law Tribunal (NCLT) to appoint a Resolution Professional and commence insolvency proceedings. Two, approach the Debt Recovery Tribunal (DRT) to sanction the process of attaching, seizing and selling assets of the insolvent company instead of going after the entire company at once.
The second method is beneficial in cases where the company, though insolvent, has operating assets in function, like Future Retail. Also, approaching the DRT will ensure that another midnight heist won't be pulled off to change the configuration of Future's assets.
But with the ambiguity of store ownership and operation at the fore and Amazon's continued resistance to RIL's acquisition of Future, it is unclear as to how the banks may proceed further.
More details will emerge after the April 20th meeting between the shareholders and creditors of Future Group's listed businesses to try and seek approval on the deal with Reliance Retail. Suffice it to say that the "whirlpool of disputes" between the parties is far from meeting its end and the people with the most to lose from the dragged-out battle will be the employers, shareholders and lenders of Future Retail who have already made provisions worth ₹9,000cr ($1.1bn) due to non-payment of dues.